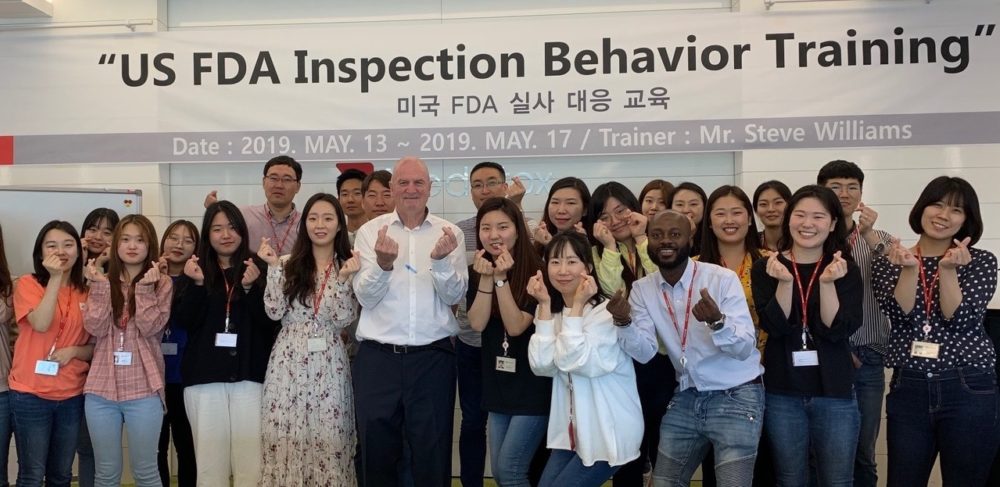 Training September 2019
CBE expands its Enterprise Training on FDA Inspection Readiness into Korea
Share
CBE is expanding its biotechnology training programs into Korea, following the successful execution of FDA Inspection Readiness training with a major national Korean biologics manufacturing firm.

The firm invited CBE in mid 2019 to design and deliver a practical interactive training program to prepare for and successfully navigate an FDA pre-approval inspection (PAI). FDA inspections require meticulous preparation and staff preparedness is a key aspect of success or failure.
The course was delivered over five days by CBE director Steve Williams to over 100 staff at multiple management levels of the business, and culminated with mock interviews with subject matter expert (SME) teams, who put into practice the theory and case work delivered over the previous days.
The mock interviews were a successful validation of the program, where the FDA interviews were simulated around selected topics. All participants passed the course.
As a result, the company has confirmed it will invite CBE trainers to deliver future programs.
"We are looking forward to working with the team again," Steve said. "And experiencing more of the wonderful hospitality of the Koreans."
Steve said he had utilised CBE's "4 Ps" as a simple, easy to follow, but highly effective approach that minimizes risk and maximises likelihood of success, comprising: Planning, Preparation, Practice and Performance.
It was unsurprising that the company had very high standards and understood the principles of GMP and the importance of a successful PAI, he said, but there were a number of other positive take outs from the program.
Although many of the management and staff can read and understand English language, they are more reluctant to speak outside English. "Interpreters who understand GMP terminology are invaluable," Steve said.
"Koreans are very interested in active participation and seek practical Q&A sessions where there is an opportunity to combine consulting with education. This was stimulating for both the attendees and the trainer.
"The level of technical knowledge shown by the participants was very high and they had an excellent track record of successful inspections with European and local KFDA inspections," he said. "They are anticipating an equally successful PAI in 2020 but understood that the stakes were high and putting in place the "4Ps" system was going to provide them with an effective strategy for success."
Steve said his other unexpected learning was that snapping fingers was a sign of happiness and enjoyment in Korea!