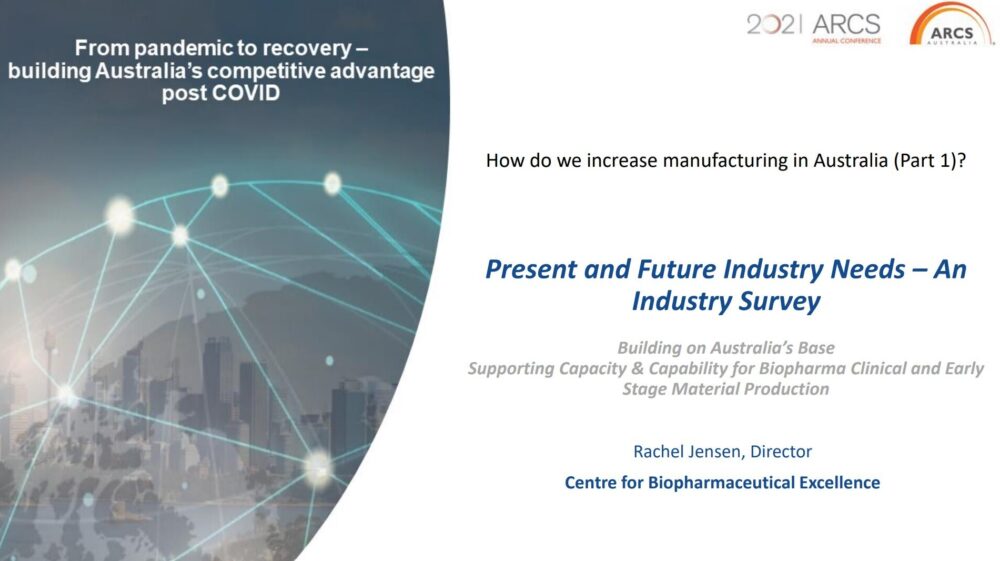 General June 2021
CBE Presents at ARCS Australia 2021 Annual Conference
Share
CBE Director and Partner, Rachel Jensen presents at ARCS Australia 2021 Annual Conference, along with Dr Phil Davies (Victorian Government, Biotech, Medical Technology & Pharmaceuticals) and Stephen Firmer (Asia Pacific Consultants, ISPE) in a session on 'How do we increase manufacturing in Australia?'.
The presentation covered Present and Future Industry Needs – An Industry Survey; Building on Australia's Base Supporting Capacity & Capability for Biopharma Clinical and Early Stage Material Production. Covering the state of the sector and critical issues facing it through the black swan Coronavirus event, rise in the need for Sovereign manufacturing and resultant revitalisation of the life sciences Biopharma sector in Australia.
Thankyou to the ISPE and ARCS Australia for the invitation to present on behalf of the Centre for Biopharmaceutical Excellence (CBE).